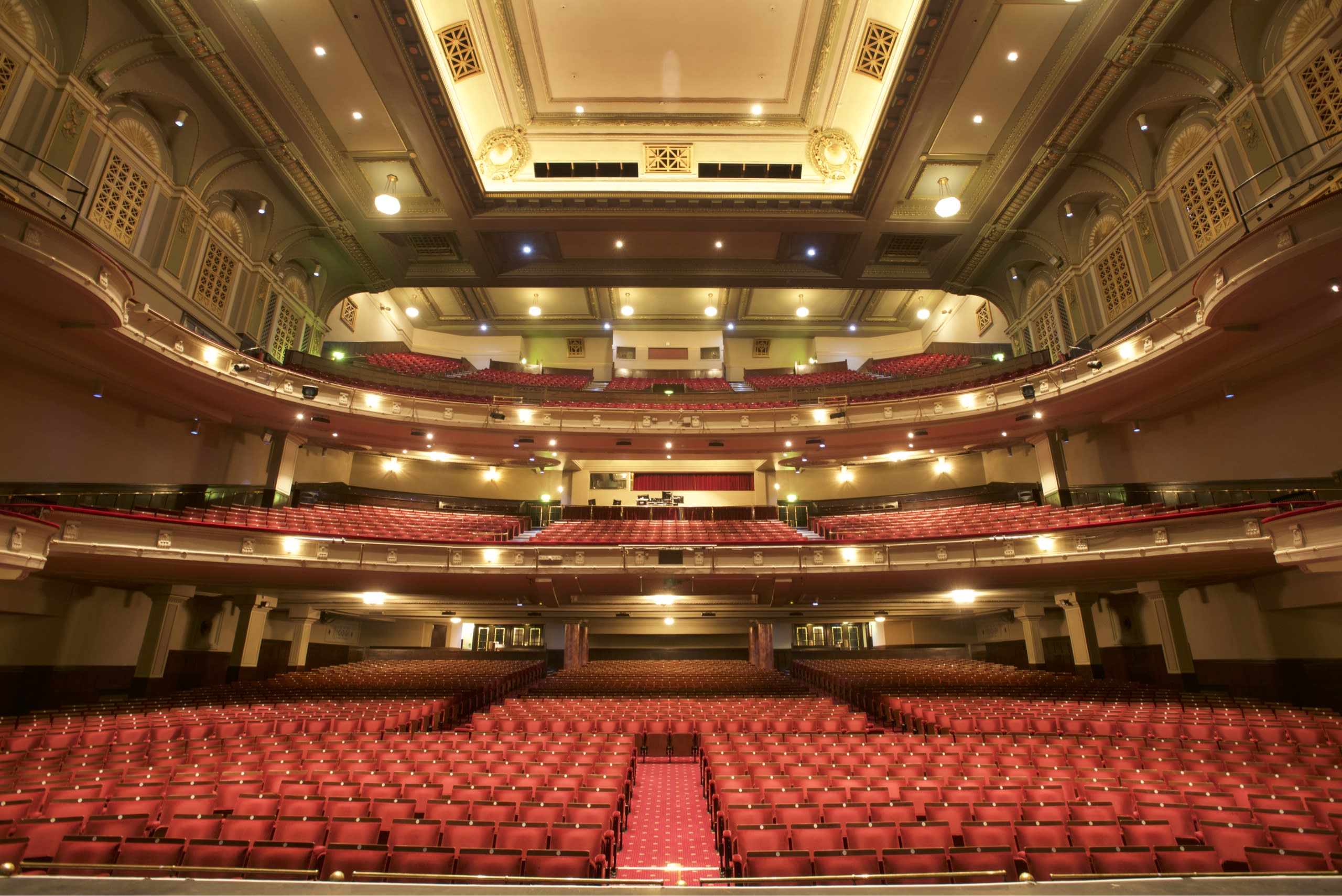 Edinburgh Playhouse
Firmly established in the cultural landscape of Edinburgh and Scotland, the Edinburgh Playhouse is the UK's largest all seated theatre and plays host to some of the biggest names in live music, comedy and musical theatre.
Contact Details
18-22 Greenside Place, Edinburgh EH1 3AA, UK
The Box Office is open for 90 minutes prior to the performance commencing. See 'What's On' section for performance times
Security
Make sure you arrive in plenty of time as bag checks and security checks take place prior to entry. Please be patient with security checks and help the staff to help you. They are there to keep you safe. --- We are a licensed venue and patrons are not allowed to bring their own alcohol onto the premises. Any alcohol found during bag checks and security will be disposed of. If you conceal alcohol during security checks we may refuse to admit you. We have five bars and four kiosks, as well as an at your seat service inside the venue where you can purchase drinks and snacks. Soft drinks are permitted if they are unopened and empty water bottles can be refilled at any of our bars. --- There are no cloakroom facilities so please only bring smaller sized bags with you. If you have large bags or suitcases the nearest left luggage facility is Waverley Station. --- And finally, we ask you to consider the enjoyment of other audience members and do nothing to disturb the performance.
Getting Here
By car
Q Park are pleased to partner with ATG customers to offer a 15% discount on pre-booked parking for your visit. It's easy to book in advance at https://www.q-park.co.uk/en-gb/atg/
Q Park are pleased to partner with ATG customers to offer a 15% discount on pre-booked parking for your visit. It's easy to book in advance at https://www.q-park.co.uk/en-gb/atg/
By train
Edinburgh Playhouse is located a short walk from Edinburgh Waverley Station
Edinburgh Playhouse is located a short walk from Edinburgh Waverley Station
Access
Contact Us - Please see our Access Contact Us page for details
Booking Information - Join our Access Membership Scheme to enable online booking for accessible seats, register for any available Access concessions and, for certain customers, reserve Personal Assistant tickets. Details on how to book Access tickets online are on our Booking With ATG Access Membership page.
Access Parking/Travel
Cars - QPark (OMNI Centre, Greenside Row) multi-storey car park (approx 2 mins away) has 9 disabled parking spaces and lift to street level. There is a drop off point outside the omni centre where vehicles can pull up for a short amount of time and then a 50 metre walk.
Taxis - Outside Courtyard by Marriott 1 – 3 Baxter's Pl, Edinburgh EH1 3AF
Buses - 1, 5, 7, 14, 34, 49 Stop: Omni Centre
Trams - To/From York Place
Trains - Waverley 0.3 miles uphill from the theatre.
Step Free Access and Wheelchairs
The Edinburgh Playhouse does not have a lift. There is level access from the entrance into Circle Bar located on the right hand side of the main foyer. An 'At Seat Service' is available on request please ask a member of the Front of House team upon arrival.
For level access with only 1 step, we recommend Circle Row M. In the Circle, there are handrails from Row K to A and our AA + BB seats Our Stalls are 40 steps down (4 flights) from Street Level. There are handrails on these stairs, but there may not be handrails to all seats. There are handrails up the 25 steps (2 flights) to the Balcony. The Balcony has steeper and shallower seats than other levels with no handrails. Our Bistro and Ambassadors Lounge are located up 3 flights of stairs. Our Director's Box is located up 6 steps.
We have 8 step-free wheelchair positions, and 8 seats are suitable if you wish to transfer to a theatre seat. There is a slight incline to these seats.
In the Stalls, seats are c.40cm (not including armrests). Armrests do not move. Legroom may differ throughout the level. If extra legroom is needed, please book in Row L. In the Circle, Wheelchair spaces widths are up to 110cm. Seats in the circle, including companion chairs next to wheelchair positions, are c.40cm (not including armrests). In the Balcony, seats are c.40cm and have smaller armrests. Legroom is more limited in the Balcony.
Accessible Toilets - We have 1 accessible toilet on our Ground (Circle) Level. This is accessed via our Circle Bar (right hand side of the Entrance Foyer). Unfortunately, we have no dedicated accessible toilets on the other levels.
Access Performances - All upcoming Audio Described, Captioned, BSL Interpreted and Relaxed performances are listed on our Assisted Performances page.
Visual Impairment Services - Information about our venue's audio description, touch tours and other visual services can be found on our Visual Impairment Services page. We recommend seats in Stalls Rows A-E for customers who require a closer view of the stage. For Audio Described shows please sit in Stalls Rows C-E. Touch Tours may also be available to accompany Audio Described performances; this will be advertised on the web or brochure page for each show.
Hearing Impairment Services - Information about our venue's hearing enhancement systems, signed performances and other hearing services can be found on our Hearing Impairment Services page. When using our Infrared System, we recommend seats in the stalls - Rows B-E. On arrival, please notify the door staff that you require a headset and they will call a member of staff to bring one to you. For BSL performances, the interpreter stands on Stage Left or Stage Right depending on the show. We suggest any seats from Row J forward will give you the best view of the interpreter. For Captioned performances, we recommend seats in Mid-Front Stalls or Mid to Front Circle. This may be dependent on the eyesight of the customer. Please avoid rear seats on all levels.
Useful Links - For any resources such as Visual Story or links to our Euan's Guide page, please see our Additional Resources. We have more detailed accessibility information and customer reviews on Access Scottish Theatre.
Further Information and Questions - Details of company-wide Access Services are available in our Access Section. Any other questions please see our FAQ's.