Theatre Royal Glasgow
Opened in 1867, Theatre Royal Glasgow went through two fires before the turn of the century.

Standing tall through thick and thin, the theatre has since presented a wide variety of productions covering all genres, including residents Scottish Opera and Scottish Ballet. Featuring a Victorian auditorium, Theatre Royal presents first class entertainment.
Corporate Information
Like you, we're proud of our city which is why we're working in collaboration with local Partners to put the very best of Glasgow in our spotlight.
---
Whether it's a night at the theatre, a staycation or weekend in the city, we've teamed up with local Partners to ensure you see, taste and experience the very best of Glasgow. If The King's & Theatre Royal, Glasgow has ever inspired or entertained you, we have unique ways you can invest in its future by becoming a Corporate Partner or celebrating your love of theatre through The King's Seat Dedication scheme.
---
Corporate Partnerships
Between our two Glasgow venues, we create memorable experiences for over 700,000 people each year and, for our Partners provide a platform to promote their brands and products to our audiences. With our high quality programme of entertainment you'll be able to promote your company alongside the biggest names in live music, comedy and musical theatre. We create tailor-made packages to suit the needs of your business and are committed to generating greater brand awareness, new business and PR opportunities for our partners. For businesses, we have Hospitality and Sponsorship opportunities available, please contact us to find out more information.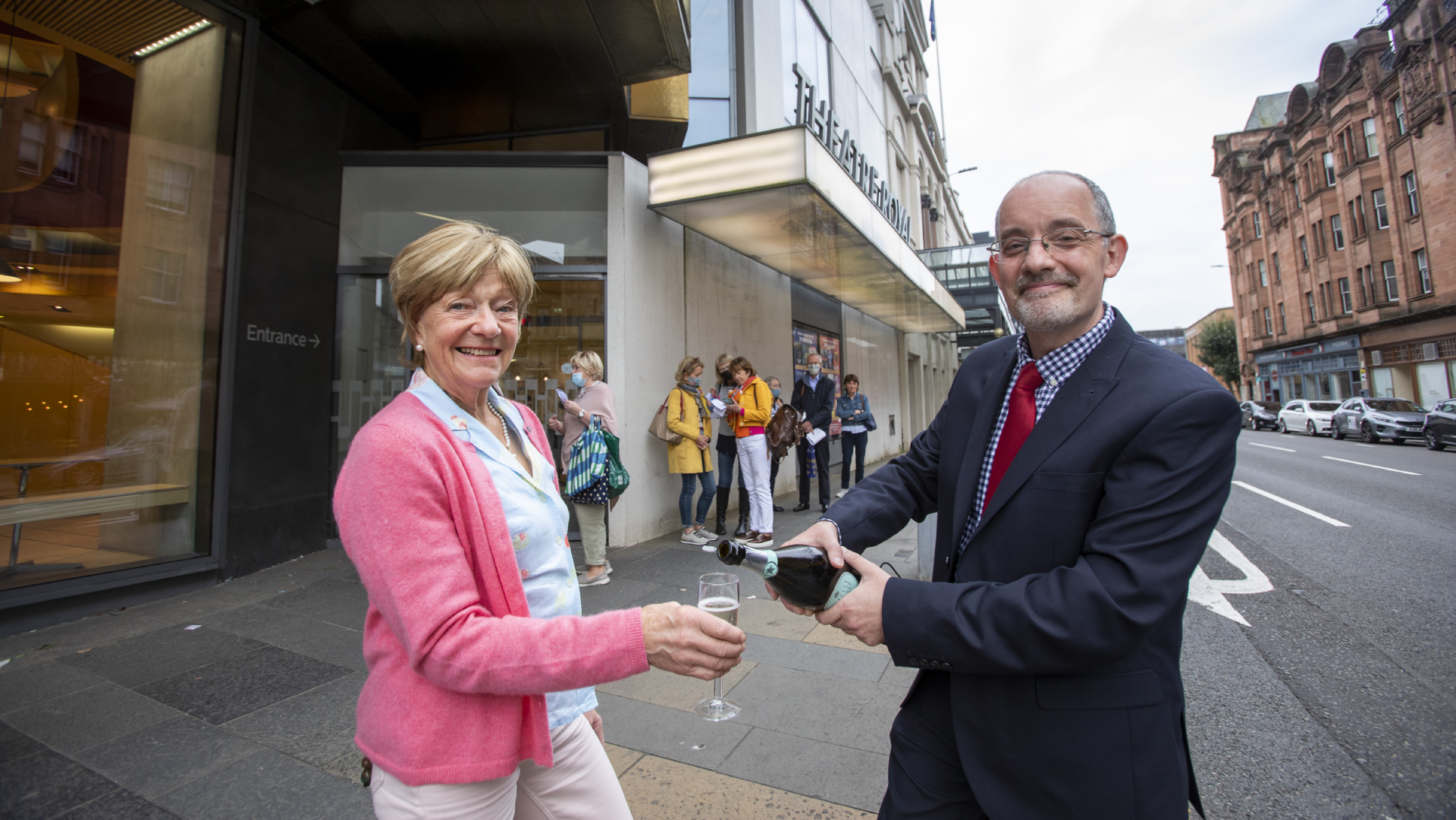 Event Space Hire
Capacities from 20 to 1,600 people
Venue team to help support your event
Flexible spaces that can work for meetings, exhibitions and performances
To find out more about Event Space Hire, please contact our Events Team on 0141 352 8215 or email [email protected]
Our Partners
ALITER CAPITAL LLP
21 Newton Place, Glasgow, G3 7PY
A private equity investor, with offices in Glasgow, Manchester and London, focused on investing in small and mid-sized privately owned businesses in the UK support services sector and, in early 2017, launched their maiden fund. In 2022, they closed their second fund, backed by a consortium of US and European institutions. Aliter capital have generously sponsored our Creative Learning initiatives. 
0141 483 5830 | alitercap.com
COLLIN CARE LTD 
Head Office: Firhill Business Centre, Glasgow, G20 7BA 
Collin Care is an award winning nursery Group providing childcare across Glasgow and Ayrshire. All seven of their nurseries work in partnership with their local council to help provide free early learning and childcare places for children in Scotland. As a Group they are dedicated to providing a loving, secure and stimulating learning environment for children while supporting families and the communities they operate in. 
GAUCHO GLASGOW
7 West Nile Street, Glasgow, G1 2PR
Gaucho is Scotland's first carbon neutral steak house serving the finest Argentinean steak & hosting the world's largest Argentinean wine list out with the country. Situated a stone's throw from both the Theatre Royal & The Kings on West Nile Street (beside Central Station) - Gaucho is the perfect location to elevate your night at the theatre, by dining in luxury before the show. Expect delicious food, first class service & perfectly mixed cocktails. Open from 12noon till late.
ATG TheatreCard Members & ATG Staff Members receive 20% discount*
0141 221 7777 | gauchorestaurants.com | @glasgowgaucho
*Proof of Theatre Card Classic, Theatre Card Plus or ATG Staff ID is required.
GLASGOW TAXIS
As Glasgow's leading licensed taxi operator with over 700 vehicles, nobody knows Glasgow better. They're a reliable, safe and efficient taxi service operating 24 hours a day, 365 days a year. All cabs accept card payments and 6 seaters are available. It's now even easier to book your next journey using their free app. Book and track your Glasgow Taxi today.They really are 'your city's friend'.
0141 429 7070 | glasgowtaxis.co.uk
GLASWEGIN
Launched in 2018. Glaswegin is distilled in an artisan still in the heart of Glasgow. The small batch gin features a unique blend of eight gin botanicals, resulting in an award-winningly smooth spirit. Named Best Scottish London Dry in the 2021 World Gin Awards, their Premium Gin continues to impress judges and consumers alike. They introduced their first flavoured gin in September 2021, Glaswegin Raspberry & Rhubarb. Made with 100% natural ingredients, it is an elegant delicately pink gin with extraordinary length. Recently awarded a silver medal at the 2022 Gin Masters competition, this uncompromisingly fruity gin is a must-try! Launching in August 2022, The King's Theatre and Theatre Royal become the only theatres in Scotland and the UK to stock the award-winning brand meaning our patrons will be able to enjoy the city distiller's London Dry or Raspberry & Rhubarb via our bars and our mobile At-Seat service which allows customer to pre-order drinks to their seat in the auditorium. As an official partner, Glaswegin will also sponsor selected Press & Gala Night events throughout 2022-2023 at our two theatres.
MALDRON HOTEL GLASGOW CITY
50 Renfrew St, Glasgow G2 3BW
A stylish 4-star hotel in heart of Glasgow's theatre district. All 300 bedrooms have been designed with our guests' comfort in mind, with everything you need to unwind, including air-conditioning, flat-screen TV with Chromecast, Wi-Fi and en-suite bathroom with dual rain shower. Our Grain and Grill Restaurant has a wide variety of dishes to suit every taste.
0141 340 9720 | maldronhotelglasgowcity.com
MCQUEENS DAIRIES
McQueens Dairies is a much-loved family business.
Mick and Meg set up McQueens Dairies more than 25 years ago with an ambition to update the traditional doorstep milk delivery service which was sadly beginning to disappear. Having begun with a single milk round in a local neighbourhood in St Andrews, we are now a business proud to serve thousands of households across the UK. All of the milk comes from McQueens own dairy, delivered by our own drivers. McQueens started local, and it's still local. It's part of the neighbourhood, serving and supporting communities.
Crossroads Pantomimes, 'Beauty and the Beast' at the Glasgow King's is supported locally by McQueen Dairies.
PURE SPA & BEAUTY
GLASGOW & EDINBURGH 
PURE Spa & Beauty is a chain of luxury spas that began in Edinburgh, Scotland and has grown to over 20+ locations across the UK. We offer a diverse range of relaxing spa massages, personalised facials, manicures, pedicures and so much more. We're experts on bespoke treatments, catered to every unique individual's needs. The perfect place to get your nails done before a show. ATG TheatreCard Members & ATG Staff Members receive 20% discount* using promo code: ATG Staff: ATGSTAFF20 or
ATG TheatreCard Holders: ATG20
0333 232 1888 | purespauk.com
*Proof of Theatre Card Classic, Theatre Card Plus or ATG Staff ID is required.
THE SCOTCH WHISKY EXPERIENCE
The Royal Mile, 354 Castlehill, Edinburgh, EH1 2NE
Discover your perfect dram and explore one of the World's Largest Collections of Scotch Whisky. The multi-award-winning Scotch Whisky Experience is the only visitor attraction in the world to take you on a whisky grand tour of Scotland's five whisky producing regions. Whether you're a whisky beginner or enthusiast, tours are interactive, educational and fun. Fully accessible, Silver and Gold Tours are available in 20 languages.
+44 (0)131 220 0441 | scotchwhiskyexperience.co.uk
ATG TheatreCard Members & ATG Staff Members receive 20% discount using promo code: THEATRE21. BOOK HERE.
1. Receive a 20% discount by booking online via: https://www.scotchwhiskyexperience.co.uk/tour-experiences
2. Select your preferred: a. tour (i.e. Silver Tour, Gold Tour, Platinum Tour etc.), date and tour time.
3. Under payment, enter the following discount code THEATRE21 (this will automatically apply your 20% discount) and complete payment details.
Terms & Conditions
This offer is valid 1 January – 22 December 2022 inclusive.
On arrival at The Scotch Whisky Experience, show your booking confirmation and your Theatre Card Classic, Theatre Card Plus or ATG Staff ID.
Only one person in the party needs to show a valid card to gain entry.
Subject to availability, there is no limit to the number of people you can include in your booking.
Discounts apply to all admission categories (i.e. adult, senior, student, child, family) where applicable.
The Scotch Whisky Experience operates a Challenge 25 policy. If you look younger than 25, please bring photo ID, to prove you are over 18. Otherwise, you will have to settle for a soft drink!
This offer applies to online bookings only (excludes Taste of Scotland), is subject to availability and can be withdrawn at any time. It cannot be used in conjunction with any other offer or discount.
Booking Terms & Conditions: https://www.scotchwhiskyexperience.co.uk/about-the-site/terms-conditions
Contact
To find out more about Corporate Partnerships or Sponsorship please contact Ashley Sutherland Sales and Development Manager Scotland (Maternity Cover) by email [email protected]
To find out more about Event Space Hire, please contact our events team on 0141 352 8215 or email [email protected]