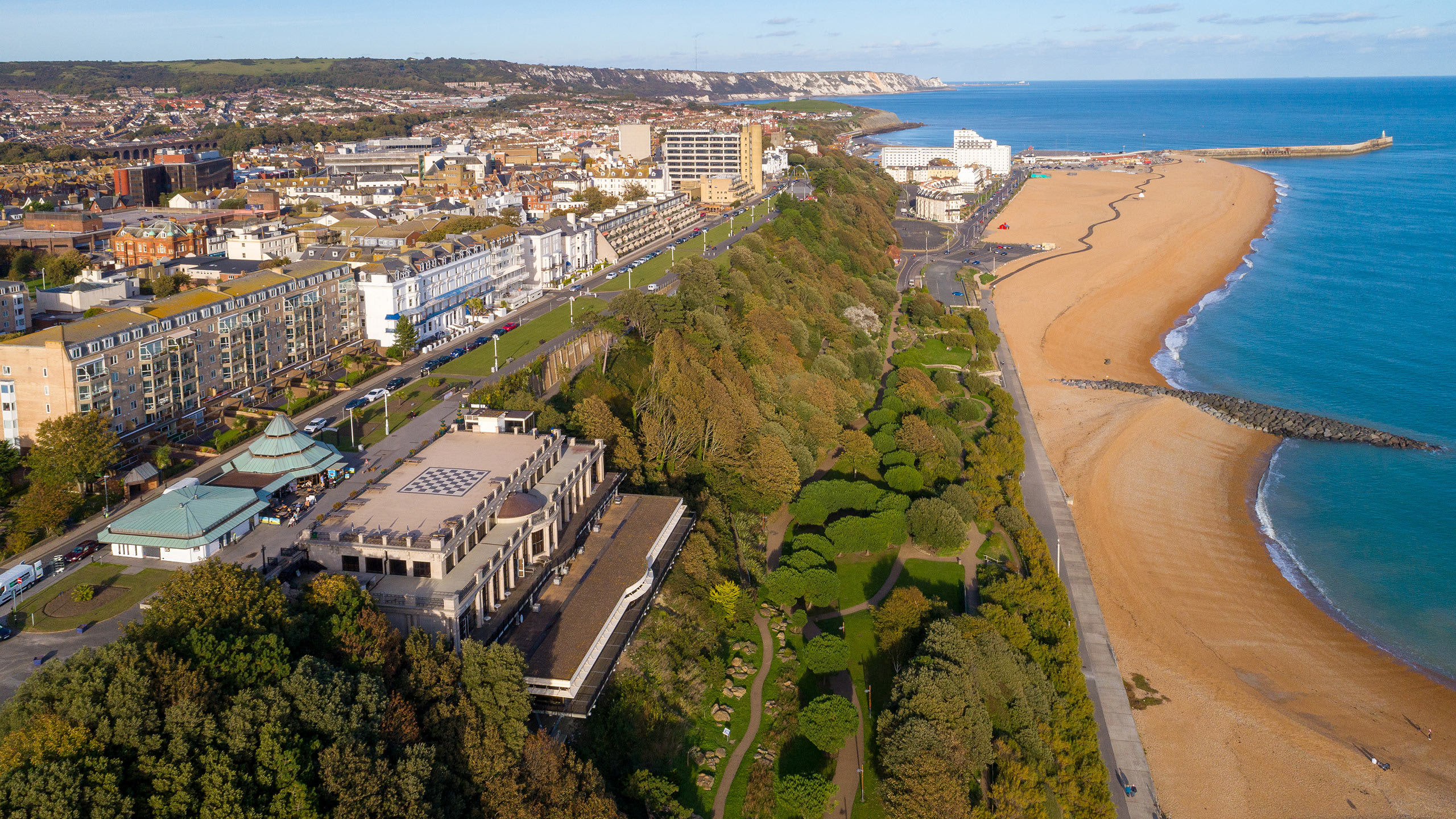 Leas Cliff Hall, Folkestone
Leas Cliff Hall is Kent's premier entertainment venue. It has played host to some of the best music acts such as Ozzy Osbourne, Kings of Leon, Stereophonics, Mcfly, Status Quo, to name a few. It was built in 1927 and has been refurbished several times in its long and colourful history.
Corporate Information
---
Leas Cliff Hall is the premier entertainment venue for Folkestone and the surrounding areas providing a packed programme of Theatre, Musicals, Comedy, Family Entertainment and a host of other activities split across our Main Hall and Channel Suite.
With a variety of shows all year round, the spacious yet lively Main Hall regularly attracts capacity audiences and can accommodate between 1000 and 1500 people, depending on the type of event.
The Channel Suite offers three function rooms with capacities ranging from one to 300 which are used for meetings, exhibitions, rehearsal space, comedy nights, club nights, parties and weddings.
To download the Corporate Sponsorship Pack, click here.
Sponsorship & Corporate Partnerships
What we offer
Brand Exposure - In Venue, on screen, product sampling, brochure and social media.
Promotion - Be part of campaigns that cross print and digital media, including press, advertising, e-newsletters and social media.
Engagement – Connecting with our audiences both in person and through online and social media communities.
Association - A chance to demonstrate your commitment to the cultivation of arts and entertainment in Folkestone and the surrounding areas by partnering with an established and exciting venue that provides audiences with unforgettable experiences.
Event Hire
Why us?
Two characterful, distinctive spaces suitable for any size event
A resident technical crew and high-quality audio visual equipment
Based a few minutes from the centre of Folkestone.
We overlook the Channel (so there are amazing views)
10 minutes' drive from J13on the M20
A ten-minute walk from Folkestone Central station, which offers high speed train services to London.
Less than 20 minutes from the Channel Tunnel Passenger Terminal and 30 minutes from the port of Dover
How Leas Cliff Hall sponsorship & Corporate Partnerships can help you achieve your business aims
Brand - Building brand awareness among the venue's 60,000 plus visitors.
Reach - Connecting with residents of Folkestone and the surrounding areas.
Prestige - Association with a local cultural venue.
Community - Visibility supporting the arts for the benefit of the community.
Networking - Building awareness of your company among potential clients and employees.
Contact
For more information on event hire please contact Emma Woodland, Leas Cliff Hall, The Leas, Folkestone, Kent, CT20 2DZ. Telephone: 01303 228607 Email: lchfunctions​@theambassadors.com
For more information on Sponsorship and Corporate Partnerships please contact Elizabeth Smith, Leas Cliff Hall, The Leas, Folkestone, Kent, CT20 2DZ. Telephone: 01303 228600