An Inspector Calls - Review Round Up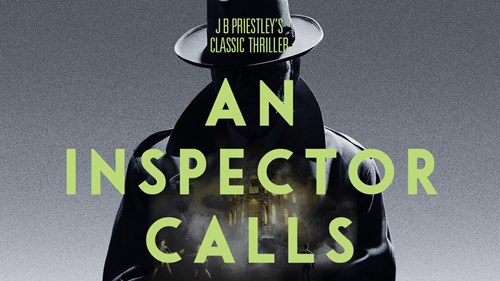 An Inspector Calls, a moralising epic, is a classic for our time and rightfully so still on the school curriculum, hence the plethora of schools in attendance on the opening night last night. Producing a gaggle of live reactions and becoming truly enraptured, thus those in attendance did much to facilitate the intended sense that we are all present and should be responsible for our actions, therefore we are all in the Birlings' house being questioned. Stephen Daldry's National Theatre production as a result brings a fresh perspective on J.B Priestley's seminal work. Written by Priestley in 1945, (just prior to the general election that cemented Labour's success, winning with a landslide), the Edwardian-set work functioned as 'a call to arms'. This political motivation concurrently inspiring Daldry in his work. He, as result opted for the originally intended stylised production typography, rather than an 'uninventive' naturalistic setting of an Edwardian family home, seeing it as an allegory about capitalism, exploitation and hypocrisy, drawn out by the symbolism and foreboding in the text.
The setting, to sit in line with the un-naturalistic, allegorical and symbolic writing, is just that, un-naturalistic. The 'Edwardian' home, appearing like a doll's house sat in a desolate street, as if marooned upon the cobbles, almost a bombsite by the end. The characters are in turn convinced out of their 'perfect'-looking but fictional home(/life) they reside in by the questions of the Inspector. Ultimately being left to crawl in the rubble of their collapsed house, as the facade they have built for themselves crumbles around them. And it is here Daldry does something even more unconventional and bold, he places the production in the era Priestley wrote it, (the tail end of WWII), doing much to convey the destruction of war, as if to say 'look at what you've done' and 'look at what could happen again' a message of tolerance.
But what do the critics have to say about this iconic piece of work...
'Absolutely extraordinary production of An Inspector Calls at New Wimbledon Theatre tonight. Staging is inventive and challenging and the cast are mesmerising. Audience of excitable teens were a bit lairy, but it captured even their attention.'
- Swazi Rogers, Radio Presenter
★★★★
'... enthralled by Stephen Daldry's superb production that had its debut at the National in 1992 and the inspector has been calling ever since.'
'But the play is timeless and is really all about class...  it couldn't be more apposite for the situation the country finds itself in today.'
'There are some genuine coup de théâtre moments in the play... the set is almost another character. Daldry uses rain, mist and some superb music from Stephen Warbeck to make this a wonderfully atmospheric production. The performances from the main cast of seven are exemplary with Liam Brenna as Goole and Christine Kavanagh as Sybil Birling the stand-outs.'
- Alan Fitter, London Theatre 1
'...inevitably, the audience are part of the show.'
'Liam Brennan reprises his award-winning turn as Inspector Goole, for his fourth year, as does Guy Chambers as Eric Birling, following acclaim on the West End Christine Kavanagh is the most striking new addition, giving grand dame Sybil Birling an unusually gentle smile and a silk-smooth voice.'
- The Prickle
'I really enjoyed seeing An Inspector Calls at New Wimbledon Theatre tonight.'
'What a treat it was to see on stage... A fab cast who were superb storytellers...'
- Perry O'Bree, Perry Presents