1.  Logging in
2. Finding the tickets you want to buy
3. Booking your Tickets
4. Redeem an ATG Gift Voucher
5. Getting your tickets
Logging in
Normally you can login during the booking process, but if you're concerned the tickets you want will sell out very quickly we recommend that you login to the site first here.
1) If you have an account
Remember, your username is an email address. Your password has to contain at least one upper case letter, at least one lower case letter, at least one digit and must be at least 8 characters long.
2) If you do not have an account with ATG you can Create a New Account here.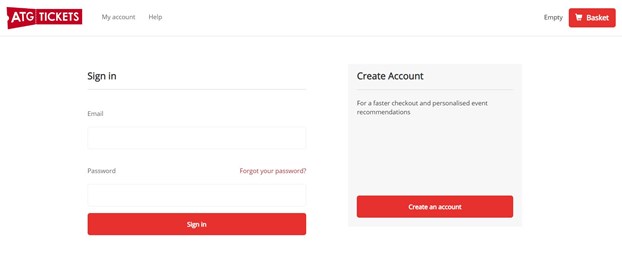 3) If you cannot remember your online account details, you can click the Forgot your password? link.
Remember: Your username is your email address. Your password must contain at least one upper case letter, at least one lower case letter, at least one number and must be at least 8 characters long.
Finding the tickets you want to buy
Once you've logged in, you will be automatically directed to a page showing all current productions.
However, the easiest way to find your tickets is to type www.atgtickets.com into the web address bar at the top of your browser.
This will direct you to the main site. You can then use ATG's internal search engine to find the performance you're looking to buy tickets for: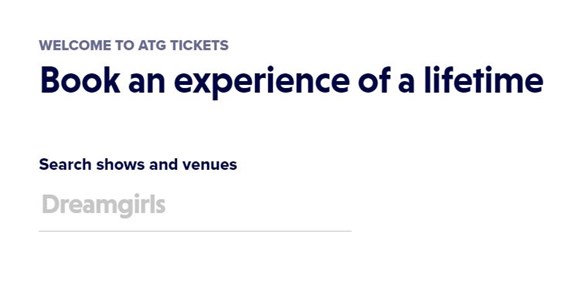 Booking your Tickets
1) Choose your tickets
Once you have found the show you want to go and see, at a theatre you want to see it at, select the performance you want on the 'Show Times' section. Then click Buy Tickets for the performance you want to go and see.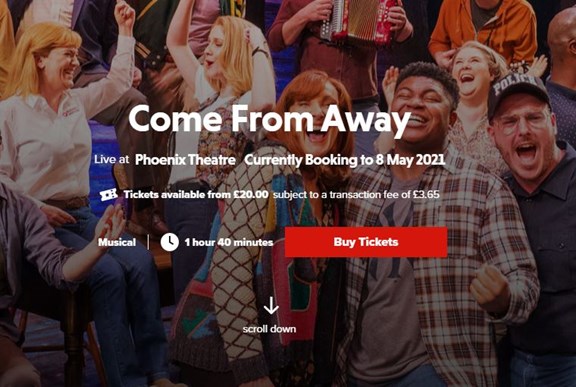 2) Choose your performance
Click Choose seats for the performance date and time you want tickets for.
3) Choose your seats 
Here you can choose where you would like to sit. The coloured dots indicate different prices.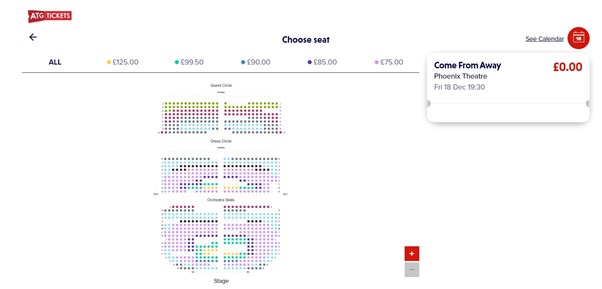 To see only the seats available for one price type, click on the list at the top. There may be more price types than your device can display at once, so make sure to scroll and check for the best price available.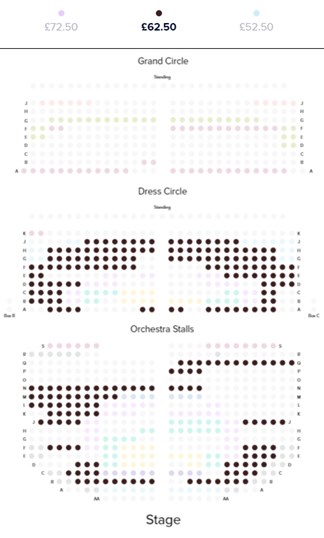 Click once on the seat map to zoom in. You can then click and drag the seat map to view different parts of the auditorium.
When you click a seat, more information about the seat will appear. Here you will see the tier of seating, the seat number and any other information for your selected seat. Click on the price of the seat to proceed, and then repeat this process for any extra seats you wish to book.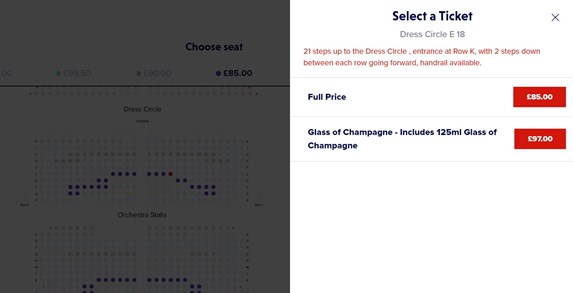 4) Enhance your experience
You will be taken to a screen that lists the additional products you can purchase for your performance.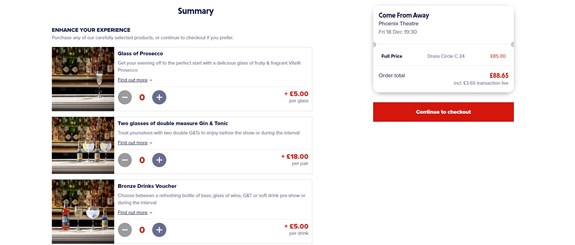 Click the plus or minus buttons to control how many you would like, then click Continue to checkout. You will then be asked if you want to protect your tickets.

Select an option, then click Continue to checkout.
Note: At the top of the screen will be an order timeout countdown. Your tickets are only held in your basket for a set amount of time and you will need to complete your purchase before the time runs out.
5) Input your collection and payment details
You can then select how you would like to collect you tickets. Please note, one or more of these options may be disabled depending on the event you are attending. Enter your first and last name, and your preferred email address.
Then, choose your payment method. Credit/Debit Card is selected automatically.

To proceed, you must accept our terms and conditions.

 6) Finalise your details
Enter the details of your debit or credit card. The accepted card types are listed on the page.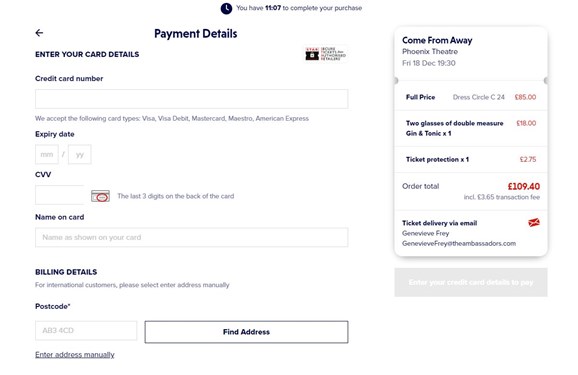 If you enter your postcode and click find address, the page will generate a list of addresses connected to that postcode. Select your address from the list. If your address does not appear, please click Enter address manually and fill in the details below.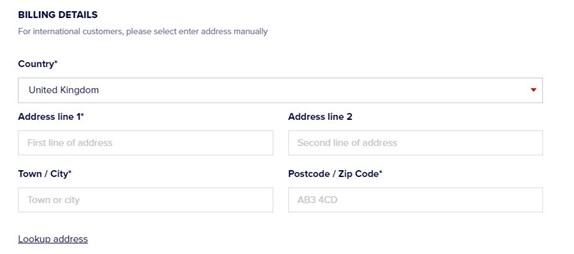 7) Confirm your purchase
Click the Buy tickets now button to confirm your purchase.
By purchasing tickets you are agreeing to our Terms & Conditions of Sale. You will be able to click through to read them at this point in your ticket buying journey, or you can read the Terms & Conditions of Sale here.
All orders are subject to credit card approval and verification of billing address, and you may need to start your order again if your payment is declined by the bank or your billing address is found to not match your account details.
Please check all the information is correct before clicking the Buy button. 
Redeeming an ATG Gift Voucher
When selecting a payment method, Credit/Debit Card is selected automatically. Click on the voucher option to proceed.
Enter your voucher number (all numbers) in the top box, and your redemption code (combination of numbers and letters) in the bottom box and click to register your voucher.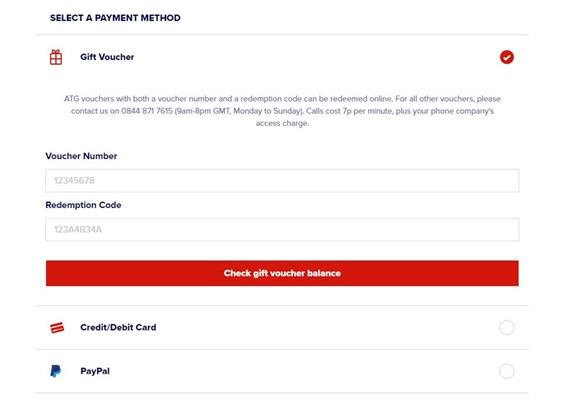 If your voucher amount is greater than the balance on your order, then any remaining amount will remain on your voucher which you can use again on any subsequent transactions. However, if the voucher amount is less than the balance on the order, then you can select an additional payment method from the list for the remainder.
Getting your tickets
If you are collecting your tickets from the theatre, the cardholder will need to show the card used for the booking and sign for collection of the tickets at the box office.
Questions about postal delivery are answered here.