Information About the Show   
1) How do I find out the running time of a show?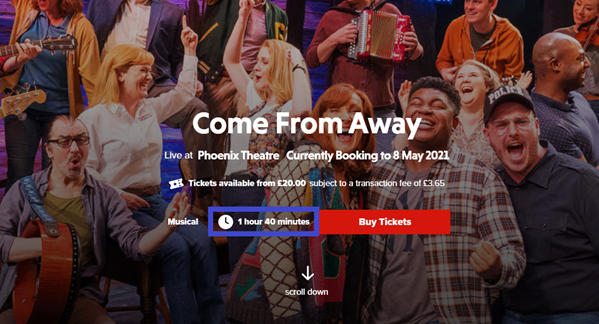 This information should be on the show page along with other information about the show. If it says TBC, it's usually because the production is still in rehearsal and final running times haven't been confirmed. This will be updated as soon as we know. 
2) How do I find out the minimum age for a show?
If there is a minimum age for the show, it will be listed on the right side of the show page:
3) How do I know what booking fees I'm going to be charged? 
You should be notified during the booking process about how much you're going to be charged. Most bookings will include a per ticket cost and a transaction fee. You can avoid being charged fees for many shows at ATG venues by either booking in person at the venue or by becoming a TheatreCard member. 
4) Do I qualify for discounts? 
*If you're eligible for concessions, you should be aware that (*T&C happiness spoiler*) they're subject to availability, not valid for all performances, and are ultimately determined venue by venue and show to show.
Students (with valid student ID).
Senior citizens (anyone over the age of 60).
Unemployed (proof that you're in receipt of JSA is required).
Children. Anyone aged 2-15 (inclusive) counts as a child. They will need their own ticket.NB: Children must be supervised at all times, and you need a 1 adult to 10 children ratio, minimum.
Babes in arms: This term encompasses all children under 18 months. They are only admitted to performances specifically aimed for them, such as children's shows and pantomimes, but then go free of charge. NB: In our Glasgow theatres (due to theatre licensing laws) we are obliged to allocate a seat to every person admitted to the auditorium, irrespective of age,so although you won't need to pay for a seat for these 'babes in arms', they will will be officially allocated a seat. Although the seat number won't necessarily be next to you, by allocating them a ticket they will then be allowed to go into the auditorium with you.
Family tickets: Family tickets are for four people, either two adults and two children, or one adult and three children. These can be selected from the discount link that appears when you confirm your seat selection or (if you've been sent an email advertising the offer) you might need to input a promo code.
Groups: head straight over to our Groups page, fill in the form and get chatting to our super Groups Team.
Patrons with access requirements: Please call our dedicated Access line on 0800 912 6971, or our typetalk line on 18001 0871 297 5477.
Theatre card members: as a member you not only get a pretty red card and lots of even prettier emails, you also get discounts to a number of productions (plus no booking fees for most our shows). Head towards our TheatreCard page for more information.
5) What is your latecomers' policy? 
This varies show to show, but latecomers can usually be admitted at a suitable gap within the performance. 
Information About the Venue
1) What are your opening hours? 
a) The venue's opening hours:
Box Office opening hours vary from venue to venue, and be found on the About tab on the venue's page.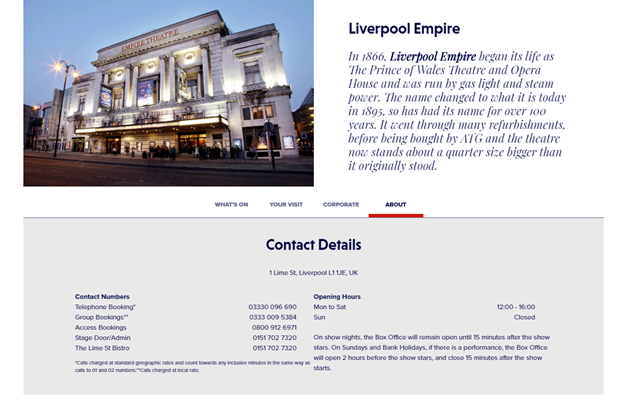 b) Calling the Customer Contact Centre:
Opening hours: Monday - Friday from 9am - 6pm.
Hours may vary on bank holidays. Please note that we are closed all day on the 25th December.
The phone numbers to call can be found on our Contact Us page.
2) Security
For your comfort and security, you may be subject to additional checks on your visit to our venues - we appreciate your patience and understanding while these are taking place.