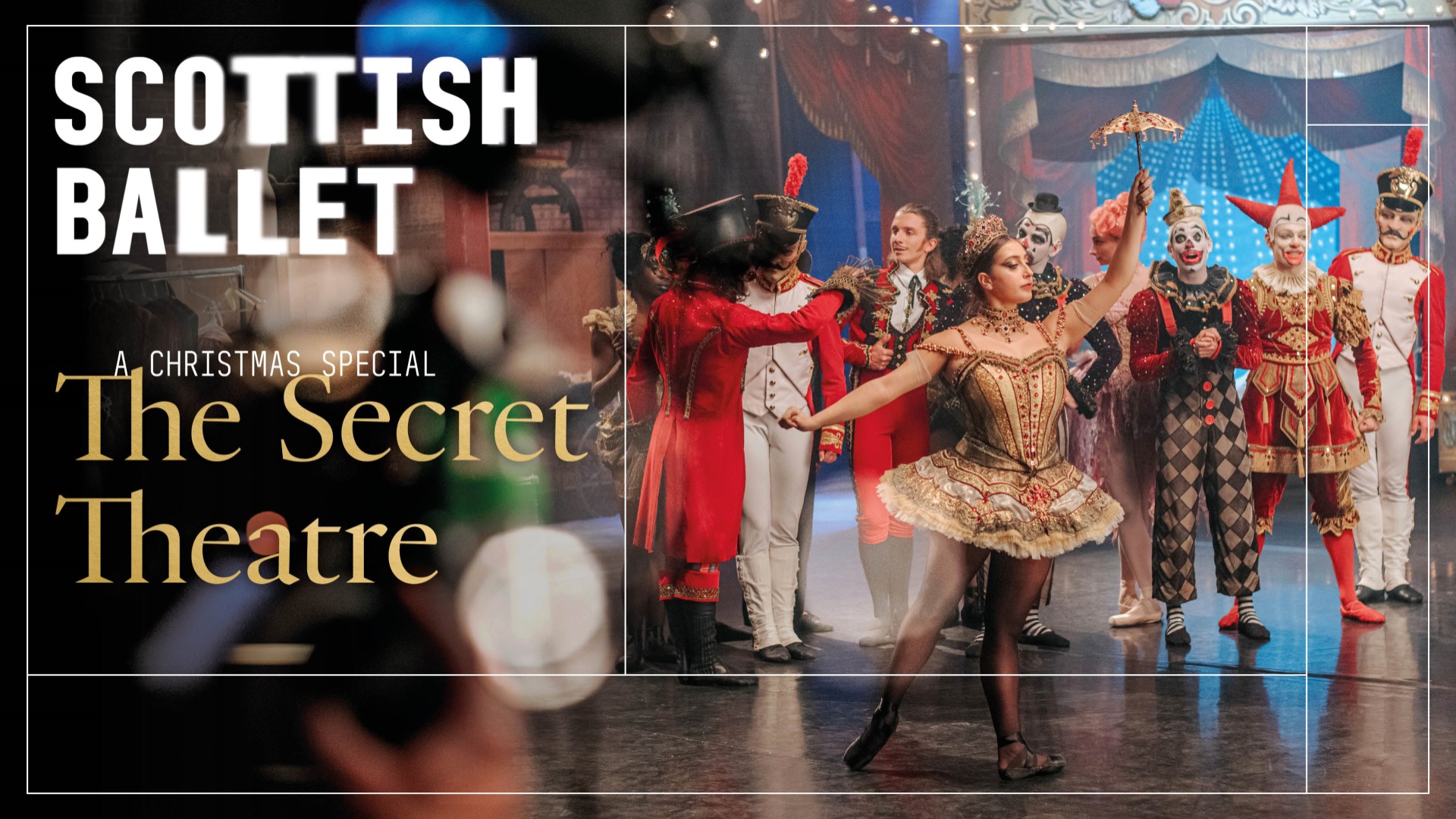 The Secret Theatre – Film
A Christmas Special
This Christmas, Scottish Ballet will bring the magic of the theatre right into your home.
In a deserted city, a young boy stumbles into a theatre. He wanders through the auditorium, where rows of velvet chairs, draping curtains and chandeliers seem to lie in lonely wait for audiences to return. The theatre may be empty, but the show will go on...
Starring characters from our most popular festive ballets, the worlds of the Snow Queen and the Sugar Plum Fairy collide when the theatre bursts into life. In this spectacular, feature-length film, you'll be treated to an extraordinary show filled with acrobats, snowflakes, clowns, princes and – of course – beautiful ballerinas. 
The Secret Theatre features the choreography of Scottish Ballet founder Peter Darrell and CEO/Artistic Director Christopher Hampson, co-directed for the screen by Jess & Morgs. With set and costumes designed by Lez Brotherston; music by Rimsky-Korsakov and Tchaikovsky, recorded live by the Scottish Ballet Orchestra; and performances from the full Scottish Ballet Company; this Christmas special will be an unforgettable adventure for all the family.
The Secret Theatre will premiere on 21 December and be available online until 24 December. Tickets are FREE and must be booked in advance.
Please consider making an optional donation to support the making of this film
Running time: approximately one hour
We are delighted to be working with our partner theatres to offer a special programme of talks and workshops, tailored to the communities we tour to. Choose your local theatre when booking tickets to find out more.
Make sure you sign up to join Scottish Ballet's free membership programme, and gain access to a special behind-the-scenes documentary about the making of the film.
There will be an audio described version of the film available. Experienced audio describer, Emma-Jane McHenry, will describe the characters and movement, revealing the story.
CREDITS
Creative Direction: Christopher Hampson & Lez Brotherston
Screen Direction: Jessica Wright & Morgann Runacre-Temple
Choreography: Christopher Hampson & Peter Darrell
Music: Nikolai Rimsky Korsakov & Pyotr Ilyich Tchaikovsky
Set & Costume Design: Lez Brotherston