Why we love Ronan Keating
{socialbuttons}
By
Jess Meaden
Last year
Ronan Keating
transitioned from pop star to West End star, when he took on the role of unlucky-in-love Guy in Olivier award-winning
Once the Musical
. He stands as the first Irishman to take on the role since
Glen Hansard
played the character in the original film.
The singer-songwriter, who originally launched his musical career back in 1993 as a member of the band
Boyzone
, had never performed on a West End stage prior to his takeover in the role. Yet despite this, he has continued to prove himself to audiences, critics and fans as a worthy addition to the Once cast since he started fixing hoovers and strumming the rusty strings of Guy's guitar back in November.
Before the musical takes a final bow in the West End next month, we've
Once
again (get it...) scoured the web and stockpiled an extensive list of why we all love this Irish charmer. You may want to get yourself comfy...
He's a man of many talents:
And we're not just talking about the armfuls of top ten singles and multiple platinum selling albums. Not only has Ronan dabbled in both presenting (
Eurovision Song Contest
, 1997) and judging (he's a resident judge on the
X Factor
, Australia) but, according to our good friend Wiki, he could easily have been representing Ireland in athletics just as effortlessly as he swoons us with his sweet music.
The internet says that Ronan used to be a track and field athlete and at the age of 13 actually represented his country in several competitions. The talented teen even held the U13 200m title in the All Ireland games. Now that's impressive.
Oh and whilst we're on this tangent, he can also perform a pretty impressive version of
Vanilla Ice
's
Ice, Ice Baby
:
He's a seriously 'cheeky' chappie:
Hello Mr Rear of the Year, 2003.
That's right folks, somewhere on Mr Keating's mantelpiece a prestigious award giving full praise to his derrière truly exists. It's probably why he was all too comfortable in getting a little 'cheeky' during his screen-acting debut in 2013 film,
Goddess
. If you don't believe us, just see for yourselves (skip to 2:22, just sayin'..).
He can pull some serious shapes:
Every good pop star needs a set of moves to accompany thier money-makin' lungs - and Ronan is no exception to that rule. Just LOOK at that hair swish...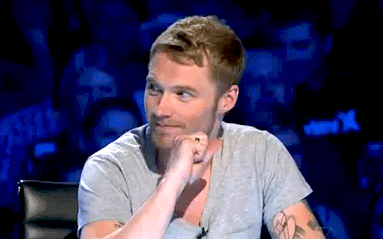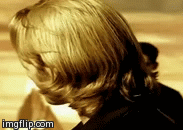 He's a film soundtrack regular:
Not only is he the singing voice behind
Postman Pat in last year's
Postman Pat: The Movie
, let's not forget that we owe him ten-fold for giving us ALL the feels when he sings hit song
When You Say Nothing At All
as Hugh Grant and Julia Robert's characters get all mushy and romantic in 90s fav
Notting Hill
.
As if you need a reminder..
He gets nervous too:
We've all had that face palm moment where we just want the ground to open up and swallow us whole...like that time
he headbutted the Pope
! It's nice to know that us 'normal' folk are not alone..
He's a charitable chap:
As well as founding the
Marie Keating Foundation
and climbing the likes of Kilimanjaro for charity, he's also a great sport when it comes to viral charity campaigning on social media.
No Matter What
the cause, Ronan's your guy.
And he's a right joker on twitter:






But seriously though..
You've got just 4 weeks left to see Ronan in
Once the Musical
at the Phoenix Theatre. Catch him quick before the curtain officially goes down and
Tomorrow Never Comes
for the show.
Too much? We went there.