5 LGBT+ shows to see in London
by Abbie Jenkins
Yesterday marked fifty years since homosexuality was decriminalised in the UK and to honour the occassion we have put together a short list of five London shows that celebrate the LGBT+ community!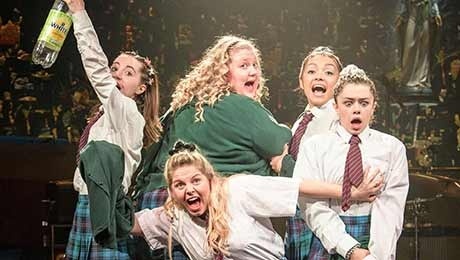 Our Ladies of Perpetual Succour
From the creator of
Billy Elliot
 (Lee Hall) comes the uplifting and moving story of six Catholic choir girls from Oban, let loose in Edinburgh for one day only. Funny, heart breaking and raucously rude, 
Our Ladies of Perpetual Succour
 is adapted from 
Alan Warner's
 brilliant novel about six young friends on the cusp of change and is directed by Royal Court Artistic Director 
Vicky Featherstone
. 
Throughout the show we are introduced to the many wonderful highs and disastrous lows of the girls' lives as they discover their sexuality and try to find their place within the world. Featuring the iconic songs of the ELO, Our Ladies is a glorious anthem to friendship, youth and growing up disgracefully. Check out the audiences reaction here.
Kinky Boots
Kinky Boots takes you from the factory floor to the glamorous catwalks of Milan. Charlie Price, played by David Hunter is struggling to live up to his father's expectations and continue the family business. With the shoe factory's future hanging in the balance, help arrives in the unlikely but spectacular form of the drag sensation Lola, played by Simon-Anthony Rhoden, a fabulous performer in need of some sturdy new stilettos. Lola is joined by seven other drag performers who form her loyal crew of 'Angels'.
With a book by Broadway legend and four-time Tony Award-winner Harvey Fierstein (La Cage aux Folles), and songs by Grammy and Tony winning pop icon Cyndi Lauper, this joyous musical celebration is about the friendships we discover, and the belief that you can change the world when you change your mind.
YANK! A WWII Love Story
YANK! is a poignant love story based on the true, hidden history of gay soldiers during World War Two. Featuring a compelling story and original music by American brothers David and Joseph Zellnik, YANK! pays homage to the timeless music of the 1940s and shows the struggle to survive in a time and place where the odds are stacked against you.
Scott Hunter (Grease) will reprise his role as Stu and joining the company are Andy Coxon (Beautiful, The Carole King Musical,) as Mitch, Waylon Jacobs (Chicago) as Sarge/Scarlet and Bradley Judge (Sister Act) as Rotelli and Scott Davies (The Return of Neverland) as India.
Summer In London
Summer in London is a romantic comedy written and directed by award-winning filmmaker and LGBTQ activist Rikki Beadle-Blair MBE, this is the first play in mainstream British theatre that is led by an entirely transgender cast. 
Four friends court the same woman on a budget of nothing while the sun shines. A Midsummer Night's Dream for Generation Rent in a city that still hides a bit of magic, if you know where to look. As the sun sets and the drinks flow things get complicated, and we discover nothing is as it first appears. A love letter to London and a story of friendship, love and finding yourself. Don't miss this funny, sexy and life-affirming night out!
Angels in America
America in the mid-1980s. In the midst of the AIDS crisis and a conservative Reagan administration, New Yorkers grapple with life and death, love and sex, heaven and hell. The cast includes Andrew Garfield playing Prior Walter, Denise Gough playing Harper Pitt, Nathan Lane playing Roy Cohn, James McArdle playing Louis Ironson and Russell Tovey playing Joe Pitt. 
This new staging of Tony Kushner's multi-award-winning two-part play is directed by Olivier and Tony award-winning director Marianne Elliott (The Curious Incident of the Dog in the Night-Time and War Horse).
Okay so I know I said five, but this absolutely fabulous play is coming to London in November this year and it's definitely one that you won't want to miss!
Fearless, funny, fabulous - Everybody's Talking About Jamie is a dramatic coming-of-age story with a twist, and features catchy new songs by the lead singer-songwriter of The Feeling, Dan Gillespie Sells and writer and lyricist Tom MacRae. Supported by his brilliant loving mum and surrounded by his friends, openly gay Jamie overcomes prejudice, beats the bullies and steps out of the darkness, into the spotlight as a sensational drag queen.
Apollo Theatre from November 2017.
Watch with pride and celebrate love and diversity in the capital!