Our staff and Access Champions work with the restrictions of our beautiful, historic theatres to make your visit as smooth as possible. 
Wheelchair Access
Booking tickets
You can find detailed information about each theatre's wheelchair spaces, accessible toilets, lift services and general accessibility on each theatre's Access section, which you can navigate to by clicking here. Please make sure to explain your particular Access requirements when you book your tickets and specify if you are able to transfer or need a wheelchair space.

Please call our dedicated Access team on 0333 009 5399, or our typetalk number on 18001 0333 009 5399
The ATG Access Membership Scheme offers a range of benefits. Click here to find out more and register
Arriving at the theatre
We recommend that all our patrons arrive 30 minutes before the performance starts. If you require assistance, please notify a member of staff.. 
Transferring from a wheelchair
We understand that many of our patrons are more comfortable transferring from their wheelchair to a theatre seat to watch the performance. When booking via our dedicated Access booking line (0333 009 5399) please explain your particular Access requirements and let them know the type of chair that you will be transferring from to ensure that we are able to store it whilst you watch the performance.
At Seat Service
What is At Seat Service?
This can be provided for any patrons with Access requirements. Our friendly Front of House staff can arrange for refreshments to be brought to your seat, both before the performance and during the interval. They will take your order for drinks, ice cream, merchandise or kiosk items and can bring it to you in your seat. 


Arranging At Seat Service
You do not need to book At Seat Service in advance. Please request this on arrival with a member of staff at the performance you attend. There will be no need to pay more for these refreshments, but we can only accept cash at present. 
Theatre staff on hand to help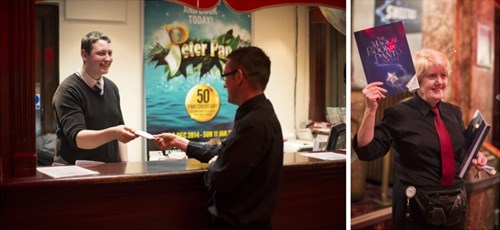 Theatre staff will endeavour to help you in any way they can. Please ask for anything you need and they will do their very best to assist you.
Additional ways we will be able to help you:
-  With friendly and helpful advice and service. 
-   Booking taxis or assisting you into a taxi. 
-   Providing one to one sighted guiding. 
-   Showing you to your seats or facilities. 
-   Storing equipment and make sure it is available when you need it. 
-   Regular checks that you are comfortable.